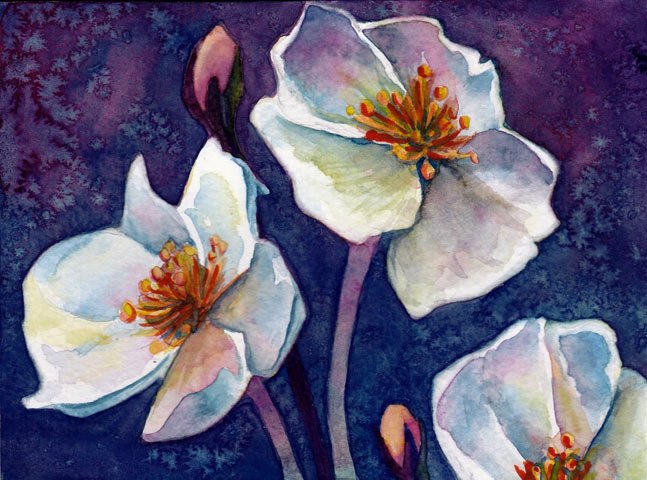 About a week ago I signed up for a one-month subscription to ArtistsNetwork.tv
. Essentially it's a site full of video painting lessons. This painting is loosely based on one of the tutorials there called "Painting White Flowers" with Julie Gilbert Pollard.
The thing I loved best about the sample painting she did in the video was how she used so many different colors in the white part of the flowers. I loved it so much, in fact, that I didn't even finish watching the video because I was too excited to start painting 🙂  At any rate, this is what I came up with.
I'm really happy with how the colors came out – I used a limited palette of carmine, hanza yellow and ultramarine from my St. Petersburg White Nights set. All of the colors were mixed on the paper rather than in the palette, which I think makes them look more pure and less muddy than pre-mixing them.
I'm planning on doing a review of the video site in the near future, but in the meantime I would highly recommend checking it out. Even if you don't want to sign up, you can pick up a lot of great tips from the free previews of each class.
If you do decide to sign up, you can use this link for a 15% discount:
Save 15% at ArtistsNetwork.tv with Offer Code ATVBEST
Also, if you purchase your subscription through my link I'll automatically get a small commission on the sale, which would be much appreciated! 🙂
Share...
Related Posts