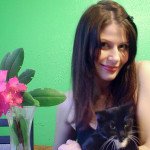 Welcome to my new blog! I am super excited to have this space where I can share my art, ideas and inspiration. Looking back, I have been interested in art for as long as I can remember. When I was a kid, I was always coloring, drawing, cutting paper or trying my hand at any number of different creative pursuits.
My foray into art as a career began about a decade ago when I discovered and fell in love with mosaics. There was just something about taking tiny pieces of glass and assembling them into a cohesive whole that really appealed to me.
A few years ago I moved into a new house that didn't have the right kind of wiring to run my kiln, and didn't have a separate space where I could work on my mosaics without making a mess. I decided to take a break from working with glass until I could get a dedicated studio set up. Trust me when I say that there is nothing fun about having tiny glass shards stuck in your carpet. Mosaics are definitely best suited to areas where no one walks around barefoot.
a quick peek at some of my mosaics…
Since moving, I have really missed having a creative outlet. That's partly why I decided to start this blog. I wanted a place where I could immerse myself in art and creativity without getting glass shards stuck in the bottom of my feet.
I also have recently taken up watercolor painting. I am still very much a beginner, but love the fact that I can paint anywhere without having to worry about making a mess. I am hoping to share some of my paintings both here and through my YouTube channel.

I am REALLY bad at telling jokes.
Over the years I've been a paper carrier, restaurant hostess, housekeeper, night auditor, casino attendant, cashier, bartender, waitress, receptionist, web designer, mosaic artist, crowdsourcer and freelance writer.
My favorite food is edible food.
I believe that everyone has an inner artist.
I am well on my way to becoming a crazy cat lady. I have two little kitties – a girl named Steve (don't ask) and a boy named Guido. They are beyond spoiled. Not only do they eat better food than I do, but they have somehow managed to permanently take over the best spot on the couch.
I am one of the few remaining people on earth who doesn't have a cell phone.
Some of my favorite artists are Tamara De Lempicka, Hieronymus Bosch, Thomas Fluharty and Edgar Degas.
My two biggest idols are Bob Ross and Will Smith.
I hope you'll take some time to say hello and to check out my site. The best way to stay up to date on my latest posts and videos is to follow me on Twitter. I always update there when I post anything new. Thanks for stopping by!
Share...