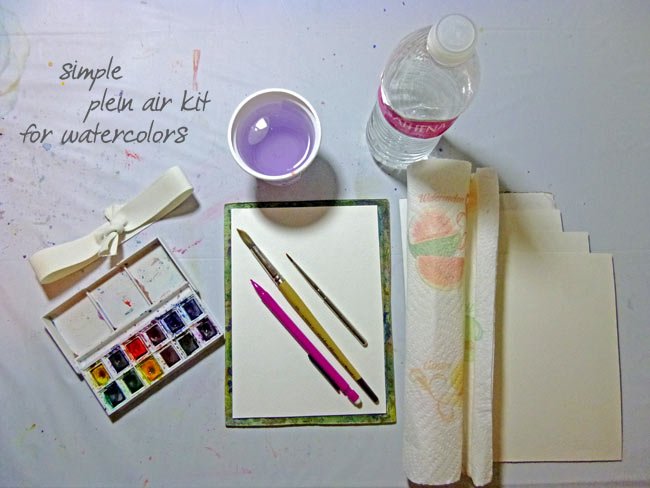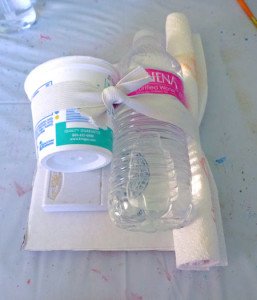 Today I decided to try painting outdoors — or en plein air — for the first time ever. In case you don't know, en plein air is a French expression that means "in the open air." In art, the expression is used to refer to the act of painting outdoors.
I wasn't sure how I was going to bring everything I needed with me — especially water. After a little bit of trial and error, I put together this simple kit.
I'm really happy with how it came out. It is extremely compact, and stayed together nicely in the backpack even after miles of riding my bike. Here's a quick breakdown of the things you'll need if you want to make your own:
A small set of watercolors. I'm using the Winsor & Newton Cotman Sketchers' Pocket Box. I got it on Amazon for about $15.00. The paints are surprisingly good for how cheap they are, and the box is so tiny and cute that it is easy to use on the go.
A few paper towels
Several sheets of your favorite watercolor paper, cut to a size of 5.5″ x 7.5″
An empty yogurt cup
A bottle of water
A mechanical pencil with a good eraser. You can use a regular pencil, but I decided to go with a mechanical one for my kit so I wouldn't have to worry about sharpening it if the tip broke.
A couple of your favorite brushes. You can bring as many or as few as you'd like. I decided to keep my kit simple by just taking a medium sized round brush and a tiny liner brush.
A thin piece of masonite cut to approximately 6″ x 8″. You can find masonite in the lumber section of most home improvement stores. It's thin enough that you can cut it down to size with a utility knife – no power tools needed. To help protect mine from water, I painted it with several coats of cream colored house paint.
A piece of cardboard cut to approximately 6″ x 8″
A sturdy, flat piece of sewing elastic or a large rubber band
Once you gather your supplies, it's time to get started! 🙂
The most complicated part of this whole process is making your board that you will use to hold your paper. I don't know about you, but when I am in the mood to paint, I don't like to spend a lot of time taping down my paper.
To get around this problem, I came up with the idea of putting tape on my board, sticky side out, then just sticking each sheet of paper to it. When I am done with a painting, I pull it off the board, but leave the tape behind so it's ready for the next piece.
The tape I used is some kind of art tape that is designed not to stick to paper. However, it works just as well with plain old masking tape. Here are some instructions for folding the tape: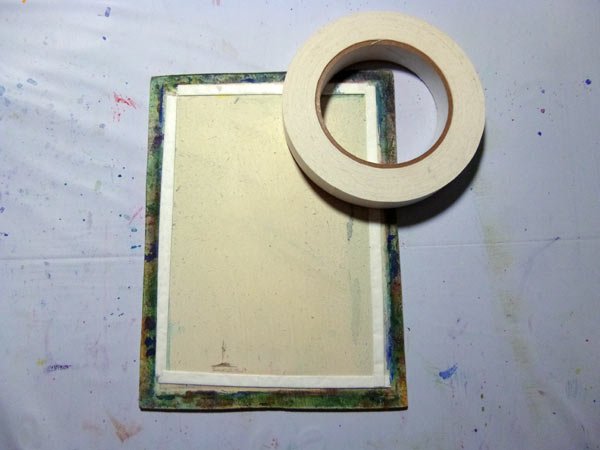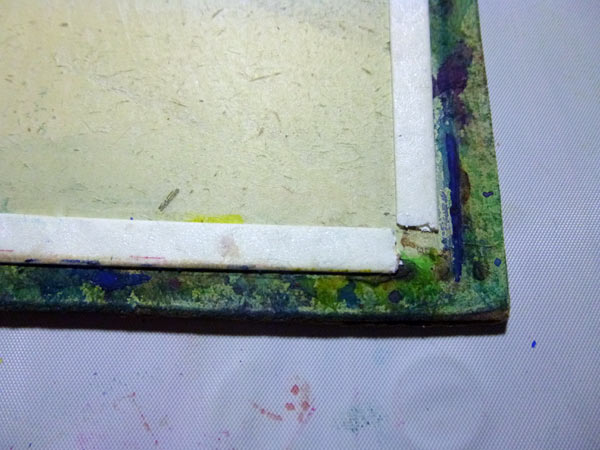 Once you are done creating your board, stick a single sheet of watercolor paper to the front of it so it is ready to go when you pull it out of your kit. Stack your other sheets of paper on top of that, then cover the whole thing with the piece of cardboard.
Roll your brushes and pencil up tightly in the paper towels, and set them on top of the cardboard/paper/masonite stack. Finally, add your water bottle (filled with water) and your empty yogurt cup. Secure the whole thing together with elastic. When you are done, it should look like this: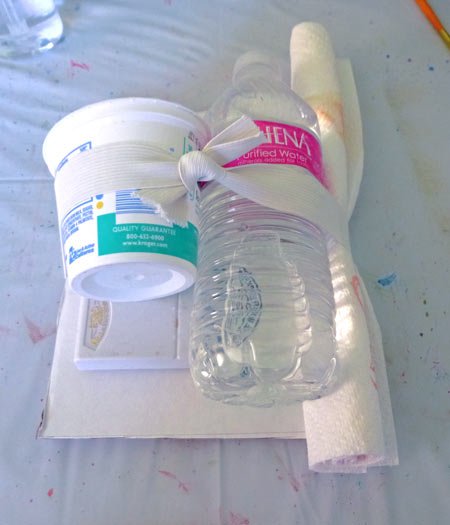 I hope that gives you some ideas for your own kit! If you have any tips you'd like to add, or if you'd like to share a photo of your kit, please feel free to do so below. I'd love to see what you use when painting with watercolors outdoors!
Share...