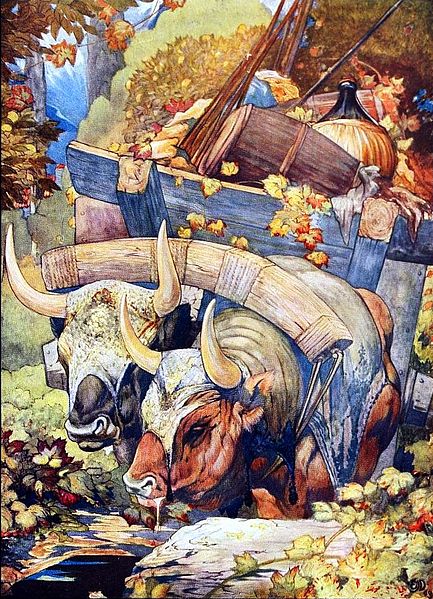 When you look at the beautiful illustrations and etchings of Edward Julius Detmold, it's difficult to imagine that his life was touched by tragedy.
Filled with color and movement, his artwork captures the beauty of nature, opening our eyes to the delicate and enchanted world that surrounds us.
Born in 1883, Edward and his twin brother, Charles Maurice, were blessed not only with artistic talent, but also with a supportive and nurturing family. Growing up, the two boys lived with one of their uncles.
Their father suffered from a chronic illness, and their uncle was kind enough to take them in and raise them. A collector of art himself, he made sure that the boys were exposed to plenty of art and culture throughout their childhood.
At the same time, another uncle, who was himself an artist, encouraged the boys to develop their artistic talents. The two were incredibly talented even at a young age. They were already publicly exhibiting artwork by the time they were 13, and had their illustrations published by the time they reached their mid-teens.
Their first publishing deal was for the 1899 book "Pictures from Birdland". Their next project together was completed in 1908. They created a series of plates inspired by Rudyard Kipling's "The Jungle Book".
The two were well on their way to success when Maurice suddenly killed himself in 1908. Edward was devastated by the unexpected loss of his twin brother, who was only 24 years old at the time of his death.
As a way of coping, Edward threw himself into his work. The following year he illustrated the "Fables of Aesop", creating 23 stunning color plates for the book, along with a series of pen and ink drawings for the chapter headings.
He went on to produce illustrations for countless other notable books including "The Life of the Bee" by Maurice Maeterlinck, "Birds and Beasts" by Camille Lemonnier and "Book of Insects" by Jean-Henri Fabre.
His last illustrated work, "The Arabian Nights – Tales from the Thousand and One Nights" was published in 1924. He retired shortly thereafter and went to live in Montgomeryshire with his widowed sister.
Tragically, in 1957, he followed in his brother's footsteps, taking his own life with a gunshot to the chest.
Selected Works by Edward Julius Detmold:
Share...