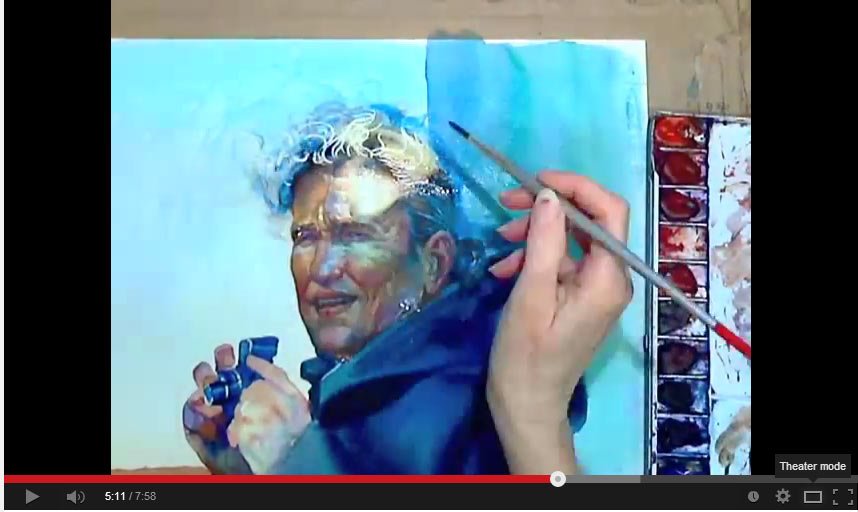 Hi everyone! Just a quick post to share a watercolor video that I found last night that I think is great. I watch a lot of "speed painting" videos on YouTube. I love these videos because you can see hours of painting compressed down to just a few minutes. It's not only fun to see how other artists work, but it's also amazing to see a painting materialize right before your eyes.
This video is from Gillian Marklew-Allen, a UK-based artist who does beautiful watercolors.
What I found particularly helpful about the video was watching how she used layers to build form. Instead of using a few simple washes of color, she adds layer after layer of paint in a wide range of colors to create her subject's skin, hair and clothing. It not only gives the painting a lot of depth, but it also makes it far richer and more interesting to look at than if she had just created the skin with a simple wash of one or two colors.
I also really love the beginning of the video where she starts laying in color. Instead of meticulously placing color, she lays out blobs of color in the general shapes that she needs. At one point it is just random colors on the paper with no indication of what it is going to become.
It is a good reminder that all paintings go through a phase where they look nothing like what you are trying to paint. I tend to give up during this phase instead of pressing on through.
From now on one of my goals is going to be to push through the "ugly" phase to see if I can add enough depth and detail to transform the painting into something that is a bit less blobby and a bit more interesting.
At any rate, I hope you find it as insightful and inspiring as I did. I know I am going work on implementing some of the techniques in the video in my own paintings to see if I can get better results. Let me know what tips you pick up from the video!
Also, you can learn more from Gilly or take some of her classes at these other places as well:
Share...