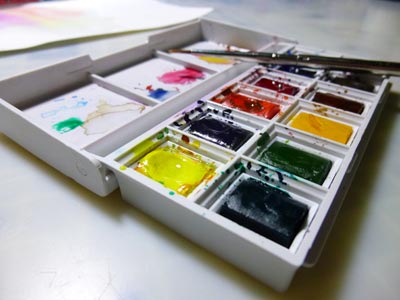 Update: This post is a couple of years old. Although I still love all of the channels that are listed below, I have discovered some additional ones that I wanted to share. After you finish checking out all of the channels below, you can see even more great watercolor channels in my new post on this topic here.
Back in the "olden days", if you wanted to learn to how to paint you either had to buy a book, order an expensive DVD or sign up for a  local class with a real-life instructor. These days, though, learning to paint is as easy as firing up a browser and watching one of countless different watercolor videos online.
Videos are amazing for learning. They allow you to go at your own pace, to pause and rewind whenever you miss anything and to see the technique demonstrated visually…often in high definition.
I was actually inspired to start learning watercolors because of a video I watched on YouTube. The way the paint flowed and the colors blended was almost magical. As soon as I saw that video, I knew I wanted to learn more.
If you love watercolor videos as much as I do, I hope you'll find this post useful. These are some of my personal favorite watercolor-related YouTube channels that I've gone back to again and again. I'll keep adding to this list as I find more, so be sure to bookmark it and check back often.
That's it for now. Remember to check back, though, since I plan to update this list regularly as I find new channels. By the way, if you know of any other YouTube watercolor channels that you think are worth sharing, please feel free to leave a comment below. Thanks!
Share...