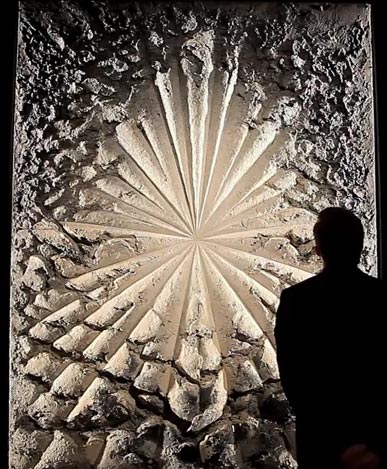 Working as a crowdsourcer exposes me to a lot of interesting things. One day I might be writing an article about pygmy marmosets, and the next day I might be categorizing clothing for a major retailer. One of my favorite crowdsourcing tasks, however, is transcribing audio files. Every so often a unique piece of audio will come through that is not only entertaining, but also educational.
It was through just such a piece of audio that I discovered Jay DeFeo, an artist who worked in the San Francisco area from the 1950s through the late 1980s. The audio file was an interview with one of her friends, telling the story of her career.
It was a captivating and somewhat dark story of obsession that piqued my curiosity and made me want to learn more about DeFeo and her artwork. At the center of the story is a large painting known simply as The Rose. DeFeo spent nearly eight years in her studio working endlessly on this single painting, adding layers of paint, then carefully carving them away.
She probably would have kept working on it, but was forced to move out of her apartment because of a rent increase. By that time the painting weighed almost 2,000 pounds and was too large to fit through the door of her apartment. In some areas, the paint was nearly 11 inches thick. A team of movers had to remove a large bay window and lower the painting from the building on a forklift.
Her friend, Bruce Connor made a short film documenting the move. You can watch it here:
http://www.tudou.com/programs/view/g716RoHhsYo/
In the following interview, Connor talks about how he believes the white lead paint that DeFeo was using had an effect on her, and how she was so disconsolate on moving day that he was worried she was going to go out the window herself.
Sadly, The Rose was only exhibited twice before it eventually wound up stashed behind a false wall in a conference room at the San Francisco Art Institute. It stayed there for 25 years, hidden from the public eye. Finally, in 1995 the Whitney rescued the painting from behind the wall and put it on display.
Although the story of The Rose is certainly fascinating, it's not the complete story of Jay DeFeo. Many people get so caught up in The Rose that they overlook the rest of her work. However, both before and after this pivotal painting, DeFeo created a number of amazing pieces of art. This video from The Economist showcases not only The Rose, but also some of her other lesser-known artwork.
Share...